By Paul de Koning, director KingsTalent
Playing for thousands of fans, live tv coverage, being cheered on by classmates and fellow students. That's the life of a student-athlete at an American college in a nutshell.
Students, alumni but also the direct (social) environment outside of the school identify heavily with the academic institutions and their successes. All these factors make that college sports draw a crowd of support. Especially the larger universities have a (very) loyal fan base.
And even though this is college sports and not professional sports, there is a lot of commercial value to be exploited. In my previous blog I mentioned the financial trade-off in American college sports, in this article I will pursue the subject of the importance of commercial revenue for American colleges.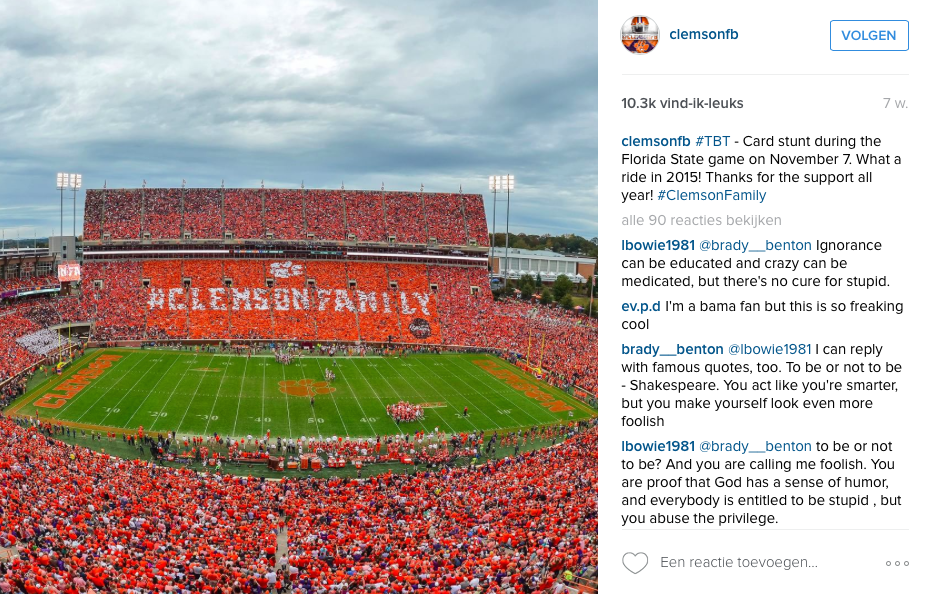 Clemson Football on Instagram – 10.300 likes!
The athletic exposure and the achievements of the individual sports programs are very important for the prestige of US colleges, for purpose of attracting new students, contributors and sponsors in the future. This is also why it is important for these institutions to get (positive) media coverage. An example of the professionalism and importance of media coverage is Clemson University, South Carolina. This academic institute employs no less then 7 full time people on its New Media Department. This is not including their TV station (Clemson TV), website and other media channels.
Clemson University Football team, yearly ranked top 10 College Football nationwide, weekly plays in a packed stadium with no less then 83.000 spectators. But they are also followed very closely on social media by their fans. Please note, these players are not pro's who earn a huge salary but student-athletes who are expected to graduate school at the end of their college career. These players, entertaining thousands of fans, don't get paid.
Facebook – 270.000 followers
Instagram – 174.000 followers
Twitter – 210.000 followers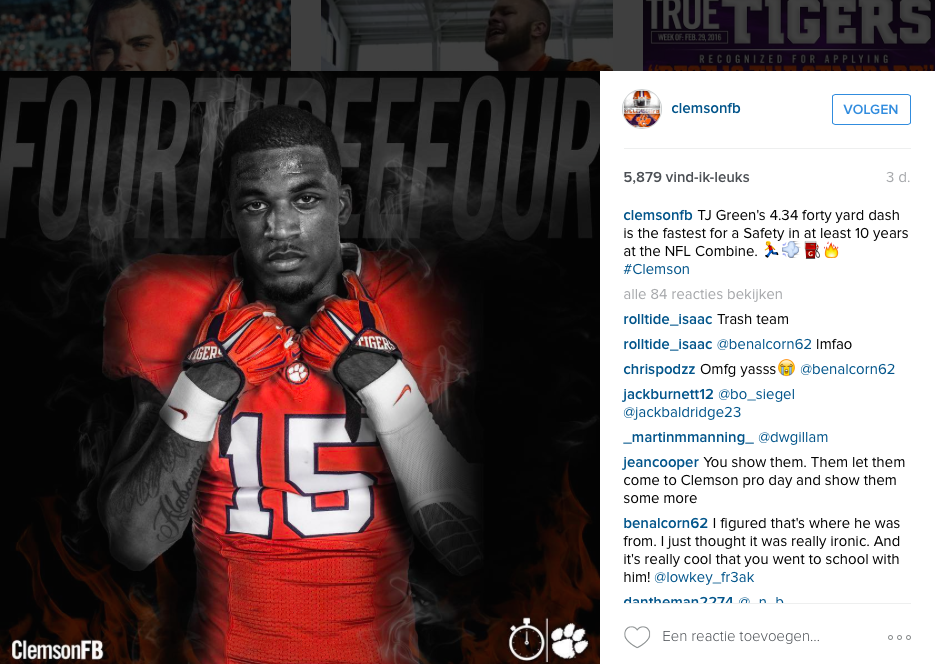 TJ Green (star of Clemson University Football). Almost 6.000 likes!
The importance of these star student athletes is so great that they are not only followed during matches. Preparations, traveling, practices and even academic achievements are newsworthy for fans and followers. This means that student-athletes are under continuous attention and pressure. As you can see in the picture below.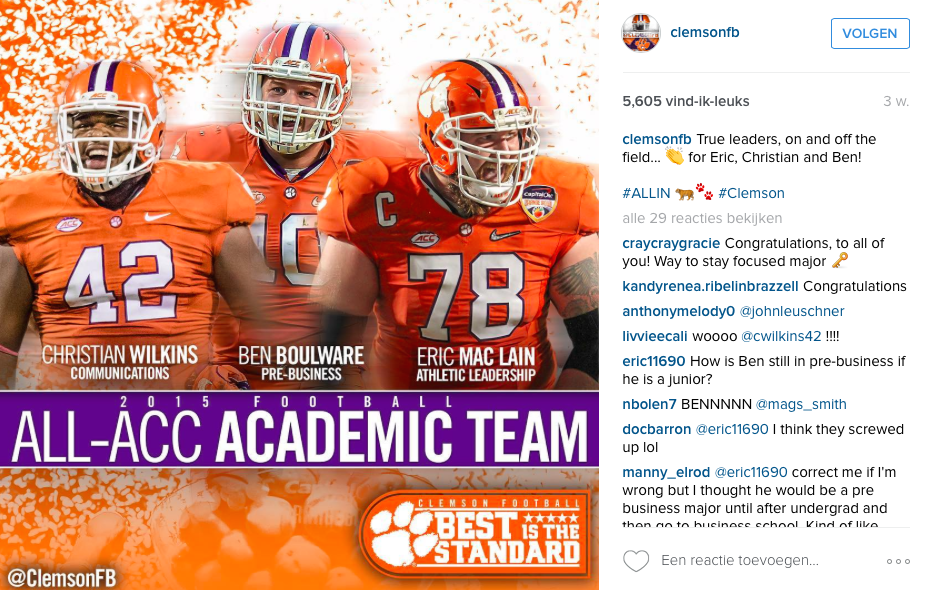 Clemson Instagram – True leaders on and off the field (more then 5.500 likes!)
Mainly due to this (social) media attention student-athletes gain a lot of respect, prestige and status. Playing in the stadiums, making trips throughout the US and the media attention make sure there is a lot of attention from (fe)male fans. Players are placed on a pedestal on campuses all over the US and are also given preference by the schools themselves by being able to skip classes due to the intensive sports schedule.
Of course all these factors named above can be a huge distraction to student-athletes themselves. For the schools there is the important task to make sure these (future) 'moviestars' graduate their academic programs and earn their degree. Due to the fact that student-athletes don't get paid and relatively few players make it to the professional top, they have to perform at school. This way the current student-athletes always have the possibility to turn to a career in society when they don't turn pro after college.
So on the one hand these student-athletes play in packed stadiums for thousands of spectators and on the other hand they are studying the next day for their next exam, in the school benches together with their fans (fellow students).
Combining this kind of top sport and a study program is unique for the college way of life in the US.