KingsTalent is keeping a close eye on the developments and experiences of Thom Derks and Lars Blenckers this season in the US. We will post blogs, interviews and other news related to them on a regular basis. In August they left to study in the USA. Meanwhile the season has ended. A very successful season! We look back on Fall Season with Thom Derks.
The season has ended. How do you feel?
The last few months just flew by. Another week and Fall-semester will be over. I really enjoyed the soccer season and it's a strange feeling that it has ended already. We've had a reasonable season but in the end we could have done a little better. We lost unluckily in the semi-finals of the PSCA-playoffs. They scored a free kick from the middle of the field and our keeper misjudged the ball. We had 23 shots on target that game, they had only 6. It still feels bad when I think about it.   
Can you give us an insight in the highlights of this season?

The soccer highlights are my first goal and winning the regular season championship by winning a match 8 second before the end. In the end winning the regular season is worth nothing when you don't win the following playoffs. The 4-0 win over rival Gannon University was celebrated intensely. Outside of soccer I went to see a Basketball game of Cleveland Cavaliers. I also visited Niagara Falls and my dad dropped by to vist. Last week we celebrated Thanksgiving with 5 other Europeans in Cleveland at a team mates home, that was great. The Wednesday before Thanksgiving is also called Blackout Wednesday or Drinksgiving. That pretty much gives you the idea.   
What was your highlight if you had to name just one?
Winning the regular season championship. Our opponent Millersville (7 hours busride) needed just one point for the title. I scored the 0-1 early in the game but in the second half we got a red card in the 50th minute and they a penalty, which they scored 1-1. They tried everything to save the point and even with 10 men we had the best chances to score. After double overtime (two times ten minutes extra) we scored the 1-2 8 second before the end. That was amazing! It meant the playoffs would be played on our field, so we had home advantage. And that meant a lot of supporters!  
Were there any lows for you this season? 
No, actually there aren't. Losing the semi-final was terrible but that's all part of the game, I really can't see that as a low.x
Mercyhurst was the reigning champions. You did manage to win the regular season, but didn't win the playoffs… How do you look back on this?
Of course you want to do just as well as the year before but we knew that was going to be tough beforehand. Last year a couple of important players graduated and left the team. It's hard to fill these gaps. The top striker with 22 goals and 9 assists, the left winger with 11 goals and 16 assists and the center midfielder with 12 goals and 8 assists all graduated last year. For the team this meant adapting to the new players for these positions. The coach kept changing formation for the first 10 games, which didn't help our game. After that we came in to a flow and we really crushed some opponents. Personally I'm satisfied with my performance. 4 goals and 3 assists is nothing compared to these guys from last year but it did feel good to be the shared top goalscorer for this season.  x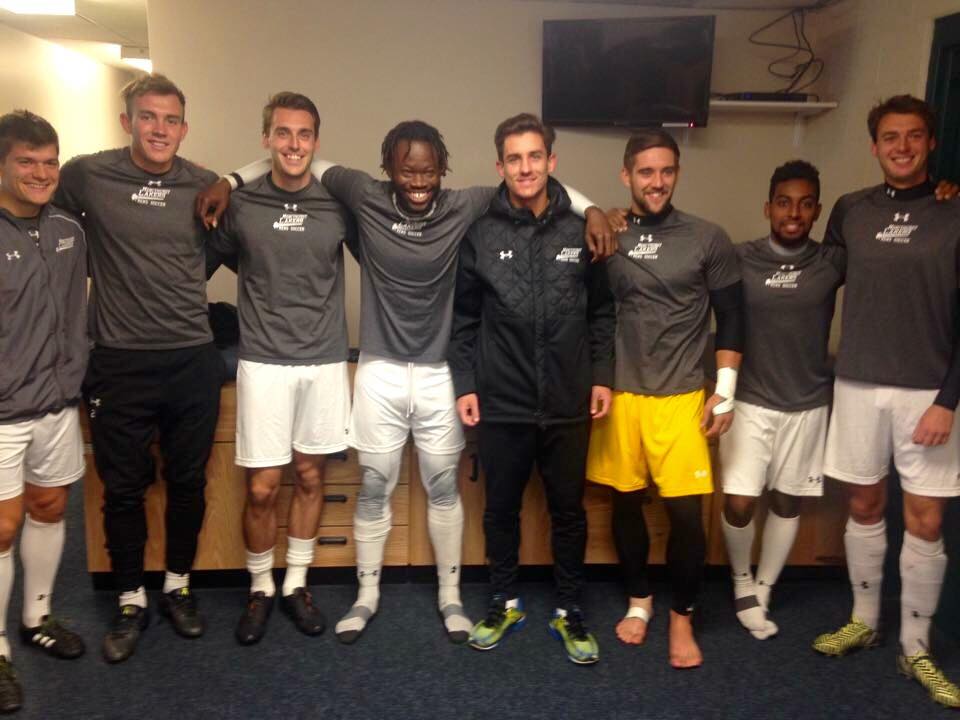 Of course you also have to study besides playing soccer. Which study did you take? And how are your results?
I study Business & Professional Communication, it's a one-year post-bachelor education. I can combine it with soccer although I have been spending some nights in the library. You just have to plan ahead when you have school deadlines and soccer games. .
What's going to happen the coming months?
Halfway December is winterbreak. From the 14th of december until the 19th of Januari I'll be in Cancun with teammates and after that I'm going to travel around. The end of januari school starts again. In March is Springbreak and we'll also be going away with teammates. We don't know where we'll go yet. Enough time to explore America.  .
KingsTalent is in full preparation to bring new talents to the US in 2016. Do you have any tips or advice? 
Make sure you arrive in the US as fit as possible. There is little time to make up for physical backlog. It would also be a shame if you were to get an injury because of the physical intensity, for you will miss 5 to 10 games in no time. Ps: the parties with the red cups and beer games like in the movies are real.