Stijn van der Slot will leave Holland in summer 2016 to play soccer and study at DePaul University in Chicago, Illinois. The 21 year old striker will get on a plane early August to pursue his American Dream. In a month and a half he may call himself a Blue Demon!

Van der Slot played the larger amount of his youth soccer years at the local club VVSB, leaving only once, to play for  (former) professional soccer club HFC Haarlem for a few years. This season Van der Slot played his games for VVSB out of Noordwijkerhout in the Topklasse. It was a very successful season indeed. The purple-yellow team managed to qualify for the new to form Dutch national 2nd Division. As a bonus the men from Noordwijkerhout managed to reach to the final 4 in the national Dutch cup where they were finally knocked out by professional soccer Eredivisie club FC Utrecht in a packed Galgenwaard stadium.
For Van der Slot this successful season was enough to enforce a transfer to DePaul University, located in downtown Chicago at lake Michigan. DePaul plays in the Big East Conference, one of the toughest NCAA Division 1 conferences. The soccer experience in this conference is huge; The top matches are broadcasted live by FOX Sports. Last year, at the game Creighton vs DePaul there were 3.300 (!) spectators. That is more than an average Jupiler League match (second highest professional Dutch soccer division).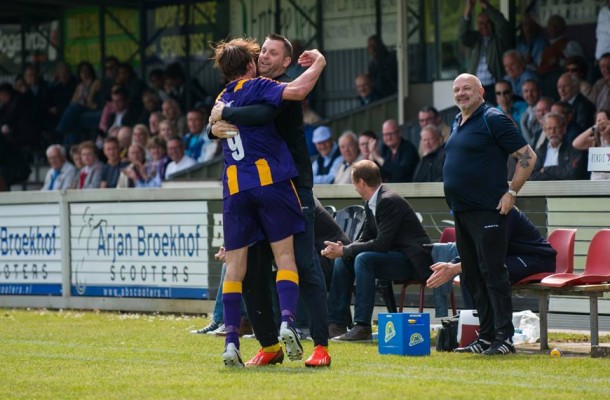 DePaul managed to qualify for their Conference play-offs in the 2016 season. Unfortunately the team was knocked out by Xavier University. 'Next year we'll have to do better. We want to compete to the end', says head coach Craig Blazer. 'We put in a lot of effort to reinforce our team for next year and I believe we have succeeded very well. All conditions are present for a successful season, with Stijn as one of our most important players. Stijn is a complete striker who can either play as a targetman and as a finishing striker. With the quality of our team to back him up I'm convinced he will do well here.'
To reach their objective there is going to be a challenging preseason for the DePaul men's soccer team. They will play NCAA D1 top teams like Oregon State and Portland. 'A good testcase for the upcoming season', says coach Blazer. After preseason Van der Slot will be traveling a lot by bus and plane for conference and non-conference matches in multiple states. For Stijn and his team mates this means playing away games in Nebraska, Oregon, Ohio, Illinois, Pennsylvania, Wisconsin and New York.
Around his busy sports schedule Van der Slot will be enrolled in the DePaul University graduate program Sustainable Urban Development. An exact match to the bachelor program he finished in spring 2016 at the University of Amsterdam.
KingsTalent wishes Stijn a lot of succes in The States coming season! Of course we will follow him very closely and will report all of his adventures.
Do you want to keep up with Stijn's stories; like us on Facebook, Follow us on Instagram or twitter.
Would you like to study and play sports in the US? Sign up here and we will contact you as soon as possible!