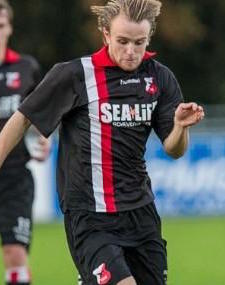 KingsTalent is proud to announce the transfer of Jim Roberti to Urbana University for the coming 2016 season. Starting August he can call himself a Blue Knight. He will move from his current residence Den Haag to the Urbana Campus in Ohio.

At Urbana University Jim will team up with Lars Blenckers. The Dutch attacker / midfielder left for the US in the summer of 2015 and made a great contribution to the most successful athletic season in Urbana history. The Blue Knights were an NCAA Division II highlight in the 2015 season, the second highest college soccer level in the USA. With achieving the first national ranking in history (#21 nationwide) the Urbana Blue Knights were knocked out of the National Championship in the final 16.
Roberti has been playing at soccer club HBS his entire life. For more than 15 years he is wearing the red-and-black of the club where he started in the U7 youth team. Currently he is a full member of the first senior squad, where he plays together with his brother Jasper. HBS managed to avoid relegation out of the Topklasse this season, which was a great achievement for the team.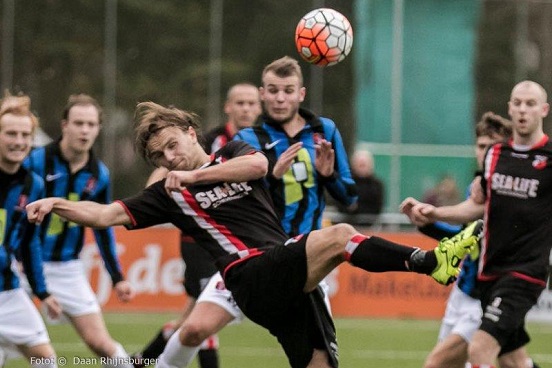 22 Year old defensive player Roberti is a multifunctional player who can play at every defensive position. Besides this he has great pace and a fine timed tackle.
Head Coach Nick Roberts sees Jim playing in the midfield at Urbana. 'Jim is used to playing at a very high level. He possesses great technique, a lot of pace and above all a winning mentality. I'm expecting that his playing skills will be a great addition to our midfield. We lost a few important players since last year and with the transfer of Jim I feel we have retrieved a lot of quality. Hopefully we can equal the fantastic achievement of last year and maybe even surpass it.'
Jim Roberti just finished his bachelor Commercial Economics at the Hogeschool van Amsterdam. In the US Jim will enroll in the Urbana University Master of Business Administration (MBA) graduate program.
KingsTalent wishes Jim a lot of succes in The States coming season! Of course we will follow him very closely and will report all of his adventures.
Do you want to keep up with Jim's stories; like us on Facebook, Follow us on Instagram or twitter.
Would you like to study and play sports in the US? Sign up here and we will contact you as soon as possible!